A couple of years ago my then-girlfriend bought me an Oliver Stone DVD box set which was a really great gift. I had loved
Platoon
and still think that
JFK
is one of the best films ever made. So having those to go off of I was very excited at the notion of owning all the Stone movies available on DVD at the time.
Unfortunately I have come to find that
Platoon
and
JFK
are the exception for a guy whose movies I've come to find almost as disagreeable as the man himself.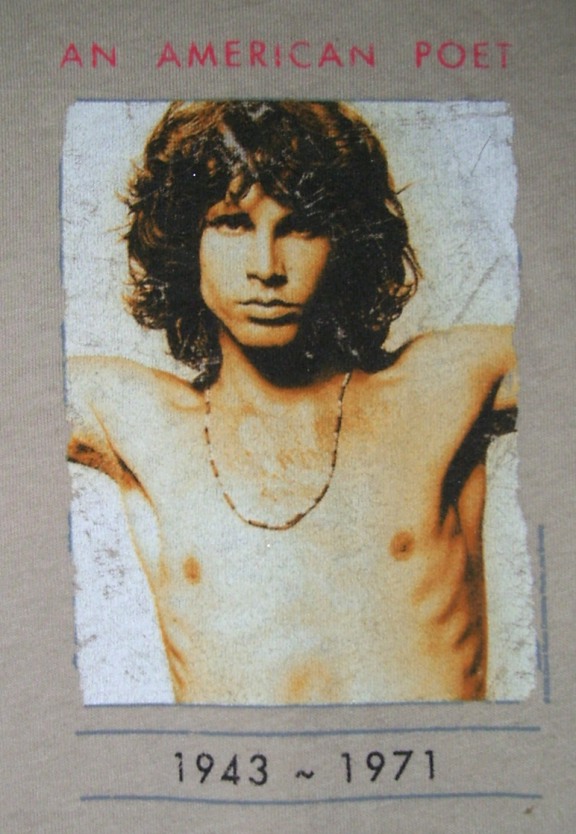 But I found myself trying to swallow that in my attempt to watch The Doors tonight. And as much as I don't like the director, I despise the subject. I think that Jim Morrison was a lousy singer and that his poetry was even worse. I could care less about the rest of the band because nothing could get me past Morrison mumbling the pretentious garbage that has since turned him into some "Great American Poet." But I was interested in seeing how Oliver Stone would portray the story of the band because that's what I'm interested in. The story of music.
In case you didn't know, the film is nothing but the type of jerk-off Morrison would pen himself had he not died in a fucking bath tub (I can only imagine how iconic Oliver Stone made this look). But I didn't finish it. I got about ten minutes in before I had enough—I couldn't stand the treatment of this guy as some sort of visionary when I just find him to be a pretentious shit.
And immediately I thought of Neil Young. "It's better to burn out than to fade away." Damn fucking right Neil! If Jim Morrison wasted away to become nothing more than some fat bloated asshole then that would certainly hold weight on his legend. People would see him the same way I see him. A hack. And it works when you think about others who were taken before their time. It's not just Jim Morrison, but artists that I respect. People who were great, but because of death, they are billed as something more than they really were.
Kurt Cobain was a great song-writer. I think that the Unplugged concert was fucking brilliant and the studio albums are all solid records. But his death has spawned this legend of a tortured poet who was too pure for the rock star status that he gained. I don't buy it. I think that Nevermind was a great record that came at the perfect time for critical and commercial acclaim. Rolling Stone puts it as number 17 on its list of the 500 Greatest Albums of All Time and that's bogus. Insert Zen Arcade or Let It Be to the same circumstances and it'd be the same story. But having Kurt as a fallen hero of rock n' roll and all things pure and he becomes a thing of legend and it's reflected in the way people today talk about Nirvana.
I can't help but look at the fact that the guy abandoned his daughter (alone with Courtney, no less) and the fans that found hope in his words. I hate to sound insensitive to what killed Kurt Cobain, but that's what I see. And the embrace of him in the aftermath seems to me unfounded. I see Kurt living today and I don't see anybody holding him on the same pedestal. He'd be right there with Eddie Vedder.
And I feel the same rules apply to John Lennon. I love The Beatles, of course, but why is it that Lennon is held in the position he's in compared to the rest of them? All the avant-garde experimentation on Revolver was McCartney. The crafting of Sgt. Pepper was George Martin. And his best solo work was under the influence of Yoko Ono and Phil Spector ("Instant Karma!" That song is a fucking masterpiece).
Lennon was the outspoken personality that McCartney never was. And while Paul got comfortable riding lazy pop, Lennon, for the most part was staying fresh thanks to the people around him. But I don't think that would've lasted either. Double Fantasy, the last record, is no good, but people hold onto "Imagine" as the representation of John being taken from us too early even though it came out in 71. Death wipes the slate clean. He was taken from the world far too soon. So those "bed-ins" are seen as romantically poetic. Not, well, completely stupid. Everything we remember about John Lennon is what was beautiful and pure.
In High Fidelity Jack Black calls out for the "top five musical crimes perpetuated by Stevie Wonder in the '80s and '90s. Go. Sub-question: is it in fact unfair to criticize a formerly great artist for his latter day sins, is it better to burn out or fade away?" And that's the thing about burning out. We never saw Nirvana fighting to stay relevant. John Lennon never made the garbage McCartney made. In my mind it's because Kurt died in 1994 and Lennon didn't live to see the 80's and 90's. But for most people, the fact that they're gone is because they were somehow too pure, too good. And so the legend goes.
Both Kurt Cobain and John Lennon are song-writers that I respect. Their images, though, for me have been tainted. I have a hard time embracing them as the fallen heroes they've been built into since they died. Tragically. And so it goes, it's better to burn out because we'd rather never see them fade away.